Welcome to Premier Oil Mills Limited
Premier Oil Mills Limited is one of the prominent manufacturers, Suppliers of the Corn Oil. Our products are in huge demand in various Countries. Additionally, customers are eased with the availability of the Products at the most affordable prices and within the stipulated time frame.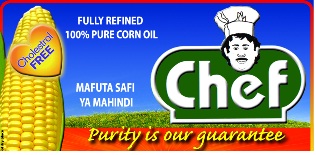 By removing free fatty acids and phospholipids from crude corn oil, the oil refining process gives corn oil one of the qualities consumers value most: its excellent frying quality and resistance to smoking or discoloration.
We are a renowned organization engaged in offering a vast gamut of Corn Oil.
Moreover, we make these products available in bulk packaging for meeting varied demands of the customers.
HEALTH BENEFITS OF CORN OIL
Cholesterol
Research has shown that phytosterols play an important role in reducing blood cholesterol by inhibiting its absorption from the intestines. According to the U.S. Department of Agriculture, corn oil contains 968 milligrams of phytosterols per 100 grams of oil. It has one of the highest phytosterol levels of the refined vegetable oils. Only rice-bran oil has a higher phytosterol content at 1,190 mg/100 grams. Corn oil is the only product that contains a natural mixture of free phytosterol, phytosterol esters and phytostanol esters.
Blood Pressure
Numerous human studies show that diets enriched in polyunsaturated fatty acids can significantly lower elevated blood pressure in individuals with high blood pressure. Corn oil was used in many of these studies. Corn oil diets have shown blood pressure lowering of about 12 percent in men and 5 percent in women who had elevated blood pressure (mild hypertension). No significant effect of polyunsaturates has been noted in persons with normal blood pressure. Essential Fatty Acids.
Latest News
May 21, 2014

We plan to process sunflower seeds and sesame seeds additional to the current maize germ.

September 17, 2014

Corn oil is regarded highly for its functionality, exceptional flavor, economy, and health benefits. It is a concentrated source of energy, is very digestible, provides essential fatty acids and Vitamin E, and is a rich source of polyunsaturated fatty acids, which help regulate blood cholesterol levels and lower elevated blood pressure.